UK animal feed helping to destroy Asian rainforest, study shows
Published On May 9, 2011 | Uncategorized
More than a tenth of the world's palm kernel meal, a by-product of palm oil, is fed to British pets and livestock
Fred Pearce guardian.co.uk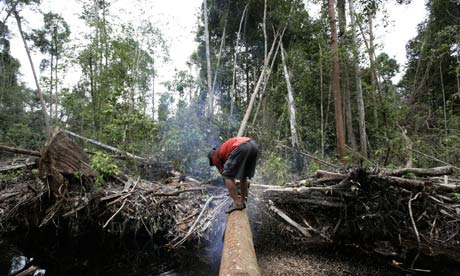 British cats, dogs, cows, pigs and even goldfish are helping destroy the rainforests of south-east Asia. A new study for the government finds that more than a tenth of all the world's palm kernel meal – a lucrative by-product of the production of palm oil – is fed to British animals.
Palm oil is an ingredient in an estimate third of all products on supermarket shelves, from biscuits and margarine to shampoo and confectionery. And it turns up on garage forecourts in biodiesel. Britain imports more than half a million tonnes of the oil a year. But the study for the Department of Food and Rural Affairs (Defra) reports that Britain imports even more palm kernel meal, mostly for animal feed.
The report found that while retailers and manufacturers of branded foods are rushing to buy certified "sustainable" palm oil that does not destroy the rainforests, animal feed manufacturers show "little awareness of sustainability". British imports of sustainable palm kernel meal are precisely zero.
The report, Mapping and Understanding UK Palm Oil Use, names three companies responsible for supplying most of the palm kernel meal for animal feed in Britain: the manufacturers AB Agri, owned by Associated British Foods, and BOCM Pauls, plus the commodity trader ED&F Man.