Anger as Cameron invites Bahrain crown prince to No 10
MP criticises red carpet treatment for Salman bin Hamad al-Khalifa as Bahrain crackdown continues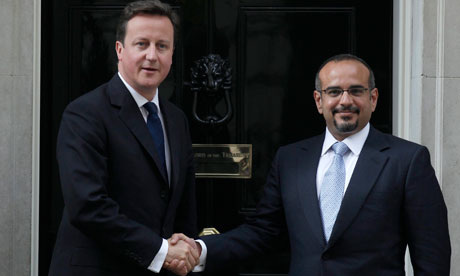 David Cameron faced criticism for inviting Salman bin Hamad al-Khalifa, crown prince of Bahrain, to Downing Street, amid an ongoing crackdown in Bahrain against protesters. Photograph: Luke Macgregor/Reuters
David Cameron provoked a storm of protest after he welcomed the crown prince of Bahrain to Britain in a high-profile photo call on the steps of 10 Downing Street.
Denis MacShane, Labour's former Europe minister, criticised the prime minister for "rolling out the red carpet".
MacShane spoke out after the prime minister welcomed Sheikh Salman bin Hamad al-Khalifa to Downing Street amid a continuing crackdown against democracy protesters in Bahrain.
Downing Street felt the crown prince had to be given a high-profile welcome after he declined an invitation to the royal wedding last month amid fears that his presence could spark protests.